New H2S Analyser with Vapour Phase Processor (VPP)
27th April 2022
|
New Products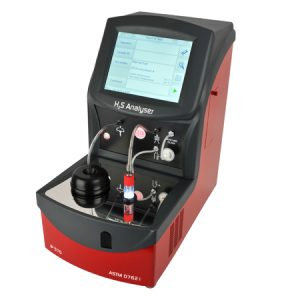 The H2S Analyser with Vapour Phase Processor (VPP) is a compact bench-top instrument, used to measure the total hydrogen sulphide (H2S) content of fuel oils, such as marine residual fuels, distillates and petroleum blend stocks. The H2S Analyser can measure H2S concentrations from 0 to 250 mg/kg (ppm) in the liquid phase.
Ease of use
The H2S Analyser features a simple user interface with touchscreen display, custom user profiles are easily programmed and an integrated camera showing the test vessel helps the user with sample input, ensuring the correct amount of sample is used.
Cost saving
Due to the simplicity of test set up and no requirement for analytical preparation, the H2S requires little operator time to run a test, helping to reduce laboratory labour costs. Being a non-chemical method, no costly or hazardous chemicals are required and the small test volume helps to reduce cost and waste per test.
The H2S Analyser can be calibrated in the field, eliminating time and costs associated with sending the instrument to a service centre.
Enhanced functionality
An analytical balance can be connected to the H2S Analyser which reads the data from the balance and automatically calculates the sample mass, saving time and eliminating the risk of data entry errors.
Other enhanced functionality features include real-time graphical display of test progress, custom result reporting and automated gas calibration.
Precision and accuracy
Designed with an integrated VPP, components such as toluene, xylene, thiols (mercaptans) and alkyl sulphides are removed to ensure the accuracy of results.
Statistical Quality Control (SQC) software allows analysis of results in accordance with ASTM D6299. Whilst participating in the Proficiency Testing Scheme (PT Scheme) ensures continued compliance to IP 570.
For more information on the H2S Analyser SA4000-4 click here