New AvCount3 Particle Counter
3rd November 2021
|
New Products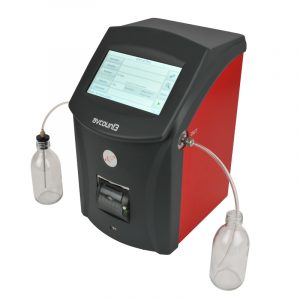 The AvCount3 is a compact bench-top automatic particle counter, used to measure the size and distribution of particles and water droplets in light and middle distillate fuels, including aviation fuel and kerosine, biodiesel, low viscosity oils and hydraulic oils.
Ease of use
AvCount3 features a simple user interface with touchscreen display, the fully automated test means extensive operator training is not required. For flexibility, user defined test methods are quickly and easily programmed.
Cost saving
Thanks to its simple set up and automatic test, low operator time is required, giving operators the option to work on something else whilst the AvCount3 test is running, helping to reduce labour costs. A small test volume of just 10 ml is required, helping to reduce test cost and waste. In field calibration eliminates time and costs associated with sending the instrument to a service centre.
Enhanced functionality
The AvCount3 features a number of enhanced functions including a dilution protocol for testing high viscosity samplesm real time display of test progress, password protected levels, 14 embedded test methods and user/sample identification.
Precision and accuracy
The fully automatic test sequence and consistent sample handling ensures test repeatability and reproducibility. The AvCount3 is calibrated to ISO 11171 and features programmable alarm limits. Statistical Quality Control (SQC) analysis allows analysis of results in accordance with ASTM D6299.
For more information on the Seta AvCount3 Particle Counter SA1100-0 click here >