Commercial Director Appointed as Deputy Lieutenant
13th July 2021
|
Company News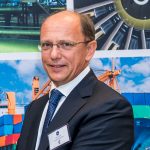 Stanhope-Seta's commercial director, Giles Verity, has been appointed by Her Majesty's Lord-Lieutenant as a Deputy Lieutenant for Surrey.
A Deputy Lieutenant is a Crown appointment and one of several deputies to the Lord Lieutenant, who is the Queen's personal representative in their respective area. Deputy Lieutenants represent the Lord Lieutenant in his or her absence, including at Royal visits, local ceremonies and official events.
Giles said, "It is a great honour to be appointed a Deputy Lieutenant for Surrey. I look forward to working with the Lord-Lieutenant, Vice Lord Lieutenant and the Deputy Lieutenant team to support those living and working in Surrey."
Stanhope-Seta are proud recipients of three Queen's Awards and as a Deputy Lieutenant, Giles will encourage and promote nominations for future Queen's Awards from businesses within Surrey.
Giles continues, "It is a real achievement to have received three Queen's Awards. They are recognised worldwide and add significantly to a company's profile, I will be encouraging local businesses to apply which will help to highlight the innovative and successful companies we have here in Surrey."
From all of us at Seta, we would like to give huge congratulations to Giles!