Safe, environmentally friendly Cloud, Pour Point and CFPP testing
25th January 2021
|
New Products
SetaCool-16 (94160-0) allows laboratory compliance to EU 517/2014 regulation to help protect the environment
Traditional Cloud and Pour Point testing requires large, cold cabinets containing fluorinated greenhouse gases or flammable hydrocarbon refrigerants and liquid baths. The emission of fluorinated greenhouse gases has a substantial negative impact on climate change. EU 517/2014 was introduced to protect the environment by reducing emissions; it regulates and limits the amount of hydrocarbon refrigerants that can be used.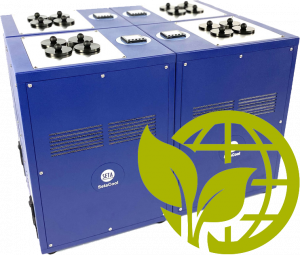 The SetaCool-16 is the latest generation; multi station instrument for testing Cloud and Pour Point. SetaCool uses solid block cooling with helium based Stirling Coolers; this well established cooling system offers a safer and environmentally friendly alternative to testing. With zero global warming potential, it is a positive solution for laboratory compliance to EU 517/2014, helping to protect the environment.
Why choose SetaCool-16?
Conformance to test methods – ASTM D97; D2500; D5853; D6371; IP 15; IP 219; IP 309; IP 441
Wide temperature range – Ambient to -78 C, temperature stability +/-0.2 C or better
Eliminates greenhouse gas refrigerants – a state of the art cooling system eliminates the use of compressors and HFC or flammable refrigerants, providing a safe and environmentally sustainable solution
No cooling medium required – the SetaCool-16 is a dry block bath with built in cooling
Ease of operation – operated via a simple to use digital controller, minimal operator experience is required
Independent modular system – the SetaCool-16 consists of 4 units each with 4 places, each unit can be set to its own required temperature. The SetaCool can be configured to use 1, 2, 3 or 4 units as per the requirements of the test method being followed
Compact, bench top instrument – maximises laboratory space
Safety – a heated top plate prevents condensation and ice forming when the bath is cooling
Energy saving – low power consumption and energy loss helps to save laboratory costs
Onsite verification and calibration – eliminating the costs and time associated with sending the instrument to a service centre