New Seta Multi Filtration Tester (MFT)
12th April 2021
|
New Products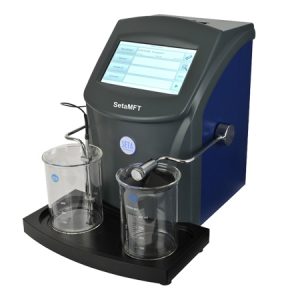 The Seta Multi Filtration Tester (MFT) 91600-4 is a fully automated instrument, designed to test the Filter Blocking Tendency (FBT) of diesel, biodiesel (B100 & B5/7/20/30), gas oil, gas turbine fuel and kerosene.
Ease of use
A simple user interface with colour touch screen display and a fully automated test means minimal operator knowledge and training is required. Real time test progress is shown and results can be stored internally, saved directly to a USB or exported using the QR code or LIMS for further data analysis. Integrated Statistical Quality Control (SQC) software allows analysis in accordance with ASTM D6299.
Cost saving
Due to it's simplicity of test set up and test procedure, little operator time is required, allowing the operator to focus on other tasks and so reducing labour cost. The MFT has the smallest footprint in its class, requiring minimal laboratory bench space, leaving plenty of room for other instruments.
Precision and accuracy
The MFT's fully automated test sequence and consistent sample handling ensures test repeatability and reproducibility. Possible missed steps or operator bias are eliminated for precise results.
Calibration and verification
Calibration of the MFT can be performed in the field, eliminating the costs and time associated with sending the instrument to a service centre.
Compliance to ASTM D2068
The MFT has been designed to fully comply with ASTM D2068. Features include internal grounding for operator safety, piston pump including mechanical and electronic precision adjustment and calibration of flow, with locking mechanism. Pulse damper to produce smooth flow of fuel to the filter unit and a pressure release valve located on the arm holding the filter assembly. Stanhope-Seta are proud to have participated in the Inter Laboratory Study (ILS) called up in ASTM D2068 and IP 387. Precision was solely derived using the Seta MFT for procedure B.
For more information on the Seta Multi Filtration Tester (MFT) 91600-4 click here >