New Silver and Copper Corrosion Bath
6th January 2021
|
New Products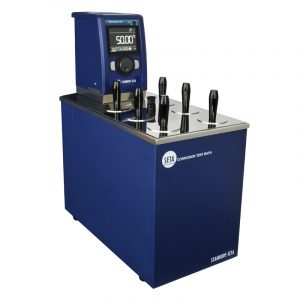 The Seta Silver and Copper Corrosion Bath 11405-0 is a benchtop stainless steel water or oil bath, used to determine the corrosive effects of fuels, lubricants and other hydrocarbon products on copper and silver.
The 11405-0 features 6 test stations with a 22 litre bath, a temperature range of Ambient +5 to 150 °C and stability of ±0.1 °C. Thanks to its small footprint, at just 23 cm wide, the Seta Silver and Copper Corrosion Bath is ideal for laboratories with limited bench space.
Ease of use
All functions on the Silver and Copper Corrosion bath are accessed via the dial and indicator icons are shown on the colour display of the thermostir.
Enhanced safety
With safety in mind, the corrosion bath features a float-operated low liquid level cut out. Users are made aware if the level of liquid in the bath falls below the allowable level with a warning display on the thermostir screen and an audible alarm, the heater automatically switches off. An adjustable over-temperature cut out protects the instrument from overheating. If the bath temperature exceeds the over-temperature cut out temperature, again a warning displays on the thermostir screen, an audible alarm sounds and the heater automatically switches off.
Calibration and verification
Calibration of the Corrosion Bath can be performed in the field, eliminating the costs and time associated with sending the instrument to a service centre.
Service and maintenance 
The rugged design ensures minimal operational maintenance is needed.
For more information on the Seta Silver and Copper Corrosion bath 11405-0 click here > or to learn more about corrosion testing click here >