Defence Standard 91-091 now includes AvCount Particle Counting IP 565
1st October 2020
|
Standard Updates
Def Stan 91-091 Issue 12 is now live and includes a limit in terms of a pass/fail for the cleanliness of jet fuel, based on particle counting by test method IP 565
The Seta AvCount particle counter range, including the AvCount Lite SA1800-2 supports IP 565.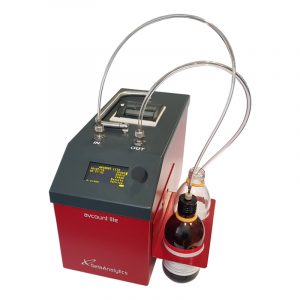 Particle Counter of choice
Anywhere fuel is manufactured, transferred, transported, stored, delivered or consumed, there is a high chance that its cleanliness is compromised. The Avcount Lite is the recognised particle counter of choice for detecting the cleanliness of your fuels. The Avcount Lite has the ability to sample from bottles in a laboratory and in the field. You can connect the instrument directly to a pipeline, or draw samples from the top, middle or bottom of storage tanks.
The AvCount Lite is a portable, automatic particle counter that provides reliable results for determining the size and distribution of particles in light and middle distillate fuels. BS EN 590 (Energy Institute IP PM FA) and ASTM D975 diesel fuel specification detail the AvCount Lite, as well as IP 565. The instrument is also included in many Military specifications around the world.
Simple operation
It couldn't be easier to perform a test using the AvCount Lite. Prepare your sample, select the required test method and press start to automatically run the test. Results are stored within the instrument memory, you can download via USB and/or print using the internal printer. Watch how quick and easy it is to use the AvCount Lite here >
Cost and time saving
An IP 565/ ASTM D7619 particle counting test with the AvCount uses just 80 ml of sample. You can run test volumes down to 10 ml, helping you to reduce cost and waste per test. Results display in less than 3 minutes, maximising operability and giving an accurate test. A quick test time means less time for solids to settle out of the sample.
On site service and calibration
AvCount uses Verification Material SA1006-0 which is certified in accordance with the requirements of ISO 17034. ISO 11171 service and calibration can be performed on site, reducing instrument down time and eliminating costs associated with sending the instrument to a service centre.
For more information on AvCount Lite SA1800-2 click here > and to organise a demonstration of the AvCount email marketing@stanhope-seta.co.uk