Stanhope-Seta's Fourth Queen's Award Celebration
6th April 2023
|
Company News
Stanhope Seta Ltd were proud to host HRH The Duke of Gloucester accompanied by the Lord Lieutenant of Surrey at their Chertsey premises on Tuesday 28th March to confer the Queens Award for Enterprise in the International Trade Category on the company.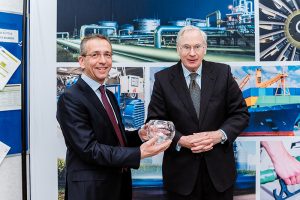 The Duke of Gloucester was given a guided tour of the factory and offices, meeting many of the Seta team. His Royal Highness was introduced to a number of Apprentices and also students from Jubilee High School whose students are participating in an Industry liaison program run by the GASP charity
The day culminated in the presentation of the award, followed by a high tea where presentations from Robert Mays school were given on their recent success Formula 1 in schools as England Champions.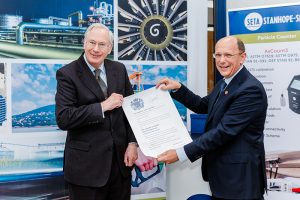 Giles and Martin Verity hosted the event, and commented that 'It was an amazing day for the company and one that will remembered by all the team for many years to come. A very proud defining moment in the company's history, and a tribute to all the team who have worked so very hard to make Stanhope Seta such a success'
About Stanhope Seta
Established in 1938, we are family owned business that specialises in the design and manufacture of laboratory test instruments for quality control applications. Based in Surrey, we design, build and export innovative test instruments worldwide with installations in over 120 countries. Our unique range of advanced instruments provide solutions for quality control applications across a diverse range of products from jet fuel to lipstick.
The company has an active engagement with the community, supporting students of all ages with placements, apprenticeships and internships. Working with local a local charity, Seta helps to provide much needed alternative learning support for students requiring specific behavioural and/or technical development, this is performed in our workshops and is a very hands on approach. Stanhope Seta is also a core sponsor of the Formula 1 in Schools team from Robert Mays school who are the current England Champions and will be representing the UK in the world championships in Singapore later this year