Stanhope-Seta Queen's Award Celebration
8th October 2019
|
Company News
A royal visit from His Royal Highness The Duke of Kent KG
We were delighted to welcome His Royal Highness The Duke of Kent KG to Stanhope-Seta to receive our Queen's Award for Enterprise: Innovation 2019. This is the third such honour to be bestowed upon Stanhope-Seta, having previously won the International Trade award in 2012 and the award for Innovation in 2014.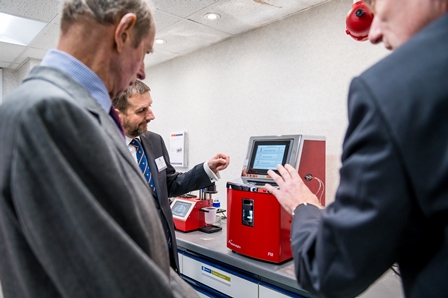 The 2019 Queens Award for Innovation, was for the company's latest development – FIJI. The FIJI instrument detects ultra-low levels of a chemical compound known as fatty acid methyl ester (FAME). This compound is widely found in road transport Diesel, however in Aviation fuel it is classified as a contaminant and its presence must be strictly controlled. FAME contamination of Aviation fuel in sufficient quantities could result in airport closures and grounded aircraft. To assist the industry in the management of FAME a rapid and reliable method of detecting the presence of compound was therefore required. FIJI was developed specifically for this purpose. The FIJI instrument is now deployed around the world in both commercial and military settings and forms one of the key testing techniques designed to ensure that Aviation fuel is fit and safe for use in today's aircraft.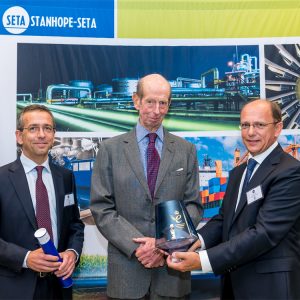 His Royal Highness was joined by the Deputy Lord Lieutenant of Surrey to tour the factory in Chertsey, Surrey, meet employees and enjoy a lunch with a presentation about our strategy for recognising our team and the next generation of engineers.
Giles Verity, Commercial Director said: "The last Queens Award's provided an enormous boost to all those involved and indeed are a discussion point when visiting customers around the world. This, latest Queens Award for Innovation is a proud moment in the company's history; the return visit by HRH is something that will be remembered for many years to come."